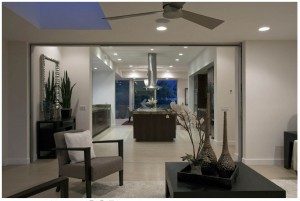 The 4500 series sliding glass door is thermally-broken and designed to accommodate huge glass panels – up to 8 feet wide and 12 feet tall!
Our newly designed flush pulls and latch assembly are made of aircraft quality precision-milled stainless steel, with a large actuator for finger-touch operation. The maximum security laminated hook-lock is an industry standard; and has been used for years by commercial door manufacturers to meet strict forced-entry requirements.
Our precision-bearing rollers ride on a durable stainless steel track and are available in three sizes to accommodate various panel dimensions.
Options
The 4500 series is available in multiple configurations, including OX, XO, OXXO, XOX, XOO, and OOX – up to 12′ tall with stainless steel hardware and multiple pull options.
1.5″ steel tandem "easy-glide" rollers for smaller panels – up to 25sf.
1.8″ stainless steel tandem "super-glide" rollers for panels up to 50sf (or smaller panels upon request)
3″ stainless steel tandem "Monumental" rollers for panels over 50sf, multi-slide doors, and available on smaller panels upon request.
THE MONUMENTAL DIFFERENCE
 Its in the Lead-Times
 Its in the Details
 Its in the Service