4550 series Vari-Slide™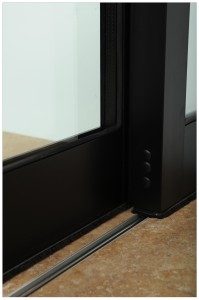 The 4550 series Vari-Slide™ door is thermally-broken and custom-designed for telescoping multiple large panels. It is designed with options for pocketing and stacking. System configuration options are endless! Each system is custom-built using semi-automated fabricating equipment for numerous configurations including 90 & 135 degree units, with options for motorization. We designed the 4550 Vari-Slide™ to accommodate huge glass panels – up to 8 feet wide and 12 feet tall! Our newly designed flush pulls and latch assembly are made of aircraft quality precision-milled stainless steel, with a large actuator for finger- touch operation. The maximum security laminated hook-lock is an industry standard; and has been used for years by commercial door manufacturers to meet strict forced-entry requirements.
Our precision-bearing rollers ride on a durable stainless steel track and are available in three sizes to accommodate various panel dimensions.
Our Sl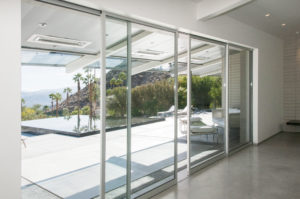 im-Trac™ is available for interior applications, and can be used in exterior applications as well, where air and water infiltration, and wind loading is not a concern. Tracks are normally staggered for better concealment while panels are closed. Insect screens are also available in various configurations. Our standard insect screen is a single panel and is placed to the interior of the system, out of the weather and elements.
The 4550 Vari-Slide™ Pocket Door is available up to 12′ tall, with stainless steel hardware and multiple pull options.
Options
1.5″ steel tandem "easy-glide" rollers for smaller panels – up to 25sf.
1.8″ stainless steel tandem "super-glide" rollers for panels up to 50sf (or smaller panels upon request)
3″ stainless steel tandem "Monumental" rollers for panels over 50sf, multi-slide doors, and available on smaller panels upon request.
THE MONUMENTAL DIFFERENCE
 Its in the Lead-Times
 Its in the Details
 Its in the Service